Mildred's Resistance is the third book to be released in The Network Series though it is a prequel. It's release date is July 15, 2015. It will cover some of the events that have been hinted at in the first two books of the series.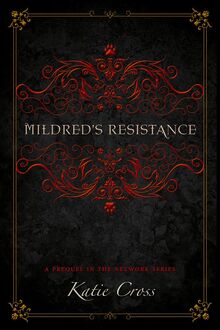 Synopsis
Edit
Absolute Power Corrupts Even the Best of Friends.
Mildred Graeme is a witch that knows what it's like to fail. She loathes small talk, struggles with magic, and grew up wretchedly poor. What's easy for her best friend Evelyn, a wealthy, powerful socialite, is difficult for Mildred.
The two lifelong friends reunite at Chatham Castle where they fight together for the dream of a better world. Mildred wants to save the Network from political elitism, while Evelyn encourages it. When Evelyn gains power and threatens to obliterate the Network, Mildred realizes that she must overcome her fear of failure to save the lives of those she loves, even if it means betraying her best friend.
Mildred's Resistance is the prequel to The Network Series and a gripping tale of intrigue, betrayal, and unexpected romance that defies all odds to rise above the ghosts of failure.